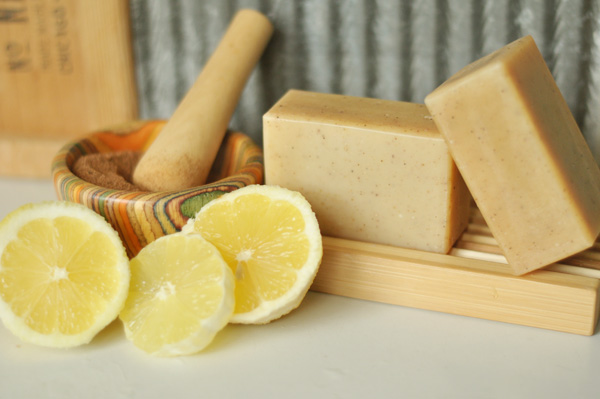 These are our citrus soaps. Both of them are scented with essential oils.
Country Bubbles Soaps will clean the dirtiest skin, yet are gentle enough to use on a baby.
They are mild enough to be used on both your body and face. You will want to keep a bar by the sink to use as hand soap. The man in your life will even enjoy shaving with our soap.
Please read the descriptions carefully. Each description mentions if there are any colorings or botanical additives in the soap. If redness or irritation occurs, please discontinue use.
Each bar weighs a generous 4.25 - 4.75 ounces and is $5.00 a bar plus postage.
Grapefruit-Lime....a combination of two delightful essential oils, grapefruit and lime.
It is light and refreshing. It will definitely perk up your day!

Grapefruit Lime is a family favorite. This is the soap our son chose when he left to travel the world.

Lemon-Nutmeg....A splash of refreshing lemongrass essential oil mixed with the cozy spiciness of nutmeg creates a classic favorite! No color added.




Country Bubbles Handcrafted Soaps
Fruits Mints Spices Citrus Floral Naturals For the Guys Fragrance Free
View Entire Selection
Stores Contact Us Order Soaps
© 2000-2017, Bechard Family Farm
All photos, images, text, and wording are the exclusive property of Bechard Family Farm
and may NOT be used or reproduced without permission.