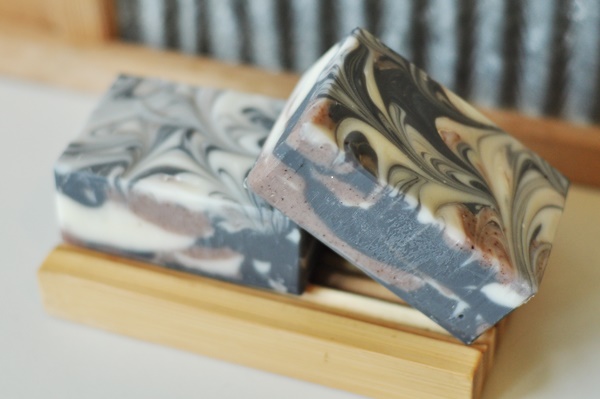 This beautiful soap is our fabulous Black Tea. It has a mysterious smoky, tobacco, cedar smell.
It is absolutely this year's new favorite fragrance!
Welcome to Country Bubbles and the wonderful world of handcrafted lye soaps! We make a large selection of handcrafted lye-soaps right here in our farmhouse kitchen.
If you've been to our website at www.bechardfarm.com, you already know the importance of putting healthy foods into your body. It is equally as important to use healthy products on your skin. Handcrafted lye soaps are a gentle, natural alternative to commercial skin care.
Bath products on the commercial market are not truly soap, they are actually inexpensively-produced harsh detergents made from petroleum products. This creates a product which can be irritating and drying to the skin.
Once you try our handmade soaps and see for yourself how soft and silky your skin feels, you'll never go back to harsh detergent soaps again!
All our soaps contain skin-pampering blends of fats and oils, and they ALL have a generous, fluffy lather. We combine vegetable fats such as coconut, palm kernel, olive oil, and shea butter with tallow to create a kind-to-your-skin, long-lasting soap. To assure mildness, our soaps are cured for several weeks before being offered for sale.
Our unscented soaps are just that, unscented! The unscented soaps contain NO added fragrance or color of any kind. If you are sensitive to fragranced soaps, you will find our unscented bars to be a blessing.
For our scented soaps, we use the finest essential oils and fragrance oils available. Most of our soaps are smooth, but a few contain exfoliating herbs or spices to enhance the character of the soap.
You can purchase the most wonderful soap you'll ever experience at the farm, by mail order, and at select stores around Missouri.
Visit our soap pages and find some just right for you. I know you'll enjoy them!
If you have any questions, you can contact me at:
teddi @ countrybubbles.com
(You'll have to remove the spaces)
or by phone at (417) 589-4152
Country Bubbles Handcrafted Soaps
Fruits Mints Spices Citrus Floral Naturals For the Guys Fragrance Free
View Entire Selection
Stores Contact Us Order Soaps
© 2000-2018, Bechard Family Farm
All photos, images, text, and wording are the exclusive property of Bechard Family Farm
and may NOT be used or reproduced without permission.