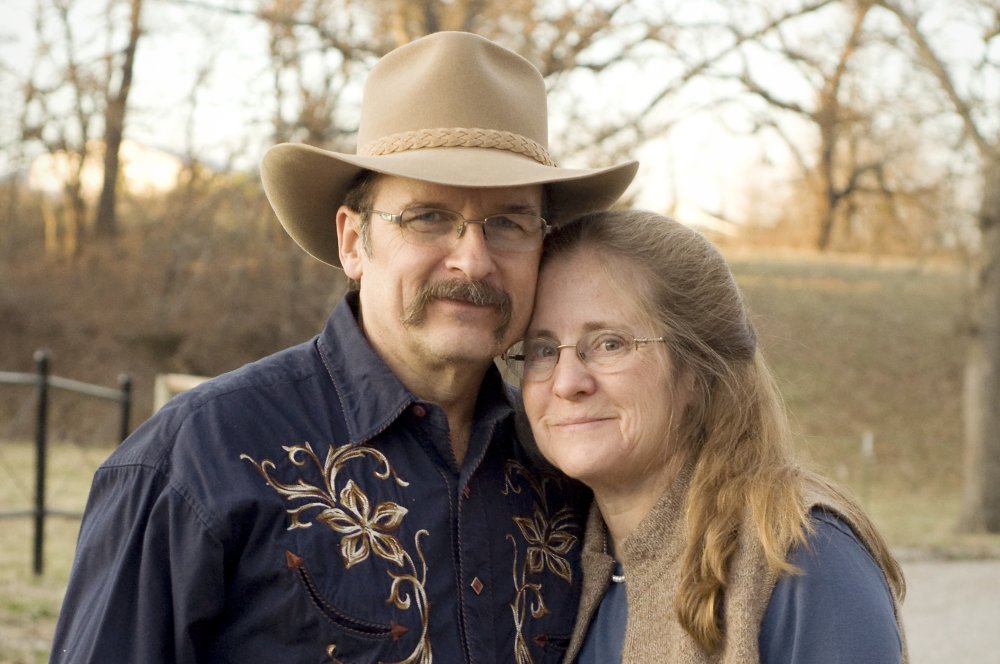 Hello! We are Armand & Teddi Bechard. I have been making handcrafted soaps for twenty-three years now. Back in 2000, together with our 7 children, we came to Missouri and started Bechard Family Farm. Three of our children are now married and we have 3 kids-in-law and 8 grandchildren!! We raise 5 different pasture raised meats here on the farm, make home-made jams, whole wheat breads, and of course, handcrafted lye soaps.
We live on a rural farm in southwestern Missouri. We have 115 acres tucked back behind a small town. On our farm, there are 17 acres of forest, and the rest is open to pasture. There are places on the farm where you cannot see another structure in any direction. It is so peaceful.
I've been making handmade soaps for 23 years now. It all started when some friends came over and showed us how to render down tallow. That's all she wrote. We haven't used store bought soap since.
Soap making is addicting. When I was first making soap for our family, I would make it every March. The children started calling it "Momma's March Madness". My family said I would make soap whether we needed it or not.
At first, I did exactly as the books said. After several years, I began to learn much more about the chemistry of soap making. I now create my own recipes to achieve the characteristics I want for the soaps.
My husband and children have now begun to help me. Some of their artistic ideas are even better than mine, but I'm still the chemist in the soap shop. We truly enjoy enjoy creating soap. People tell us they can see that in our soaps. They can tell that we love to make soap.
Once you try our handmade soap and see for yourself how soft and silky your skin feels, you'll never go back to harsh detergent soaps again!
Visit our soap pages and find some just right for you. I know you'll enjoy them!
If you have any questions, you can contact me at:
teddi @ countrybubbles.com
or by phone at (417) 589-4152
Country Bubbles Handcrafted Soaps
Fruits Mints Spices Citrus Floral Naturals For the Guys Fragrance Free
View Entire Selection
Stores Contact Us Order Soaps
© 2000-2018, Bechard Family Farm
All photos, images, text, and wording are the exclusive property of Bechard Family Farm
and may NOT be used or reproduced without permission.