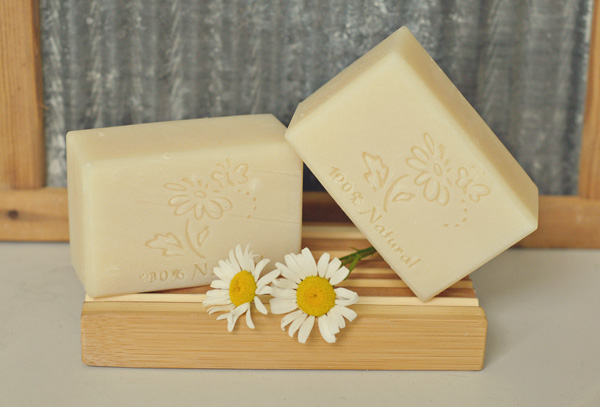 Our Fragrance Free selection is particularly kind to the skin and especially nice for those of you who need (or wish) to avoid fragrances. Two of these soaps are smooth soaps with no botanical additives, colors, or fragrances added. The third is a milk soap with only ground oatmeal added.
The FDA allows products labeled "Fragrance Free" to contain a "masking fragrance" intended to cover or camouflage the odor of the ingredients. You will not find that with our soaps. When our soap says it is fragrance free, it truly is.
Country Bubbles Soaps will clean the dirtiest skin, yet are gentle enough to use on a baby.
Our unscented soaps are simply that, unscented. NO fragrance of any kind is added. Many people with sensitive skin have found our unscented bars to be a blessing.
They are mild enough to be used on both your body and face. You will want to keep a bar by the sink to use as hand soap. The man in your life will even enjoy shaving with our soap.
Please read the descriptions carefully. Each description mentions if there are any colorings or botanical additives in the soap. If redness or irritation occurs, please discontinue use.
Each bar weighs a generous 4.25 - 4.75 ounces and is $5.00 a bar plus postage.
Simply Lye Soap....this soap is as plain and basic as it comes! It's simply soap!

No fragrance or color is added to this soap.

Milk & Honey Soap....this golden colored soap has a lather fit for a queen! This milk soap lathers richly and is ever so kind to the skin!

Made with our own Jersey milk and LOCAL honey!

No fragrance or color is added to this soap.

Breakfast Bar....we had fun naming this soap. It is a goat milk & oatmeal soap...hence, Breakfast Bar!

This soap lathers like no other. It is incredible. The finely ground oats give it gentle exfoliating properties. It almost feels like you've just used lotion after you've washed with this soap.

Made with our own Jersey milk!

No fragrance or color is added to this soap.



Country Bubbles Handcrafted Soaps
Fruits Mints Spices Citrus Floral Naturals For the Guys Fragrance Free
View Entire Selection
Stores Contact Us Order Soaps
© 2000-2017, Bechard Family Farm
All photos, images, text, and wording are the exclusive property of Bechard Family Farm
and may NOT be used or reproduced without permission.