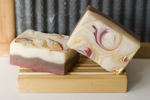 Apples 'n Spice....a delicious scent that smells like spiced Apple Cider. Contains just a smidgen of ground cinnamon..... enough to add character to the soap, but not enough to irritate your skin. The color of this soap is a reddish-brown, like apples 'n spice! You're sure to like this one !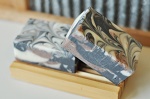 Black Tea....this hard to describe intriguing scent has a mysterious smoky tobacco cedar smell. I want to be careful and not offend my non-tobacco friends and just tell you that this fragrance is wonderful.
With notes of bergamot, lemon, and orange, this blend winds down with black tea leaves, jasmine, cedarwood, amber, and musk.
We used black walnut hull powder for the brown in this beautiful soap giving it a gentle exfoliating property.
This soap has become a customer favorite!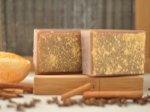 Holiday Spice....this is a custom blend of some wonderful spicy essential oils ! Holiday Spice contains essential oils of orange, cinnamon, clove, and more! You won't find this blend anywhere else! Use your imagination and try to imagine how good this spicy blend really is!
Not recommended for someone with sensitive skin.
Signature Blend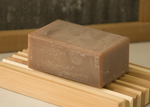 Oatmeal Honey Spice....this is a gentle soap, soothing to the skin, with ground oats and honey, topped off with a mild blend of spicy essential oils. You won't find this blend anywhere else! If you click on the picture to enlarge it, you can see the ground oats. The new soaps have a few oats sprinkled on top.
No color added.
Signature Blend